There's no denying it. Frozen food is having a moment. Over the last year, consumer demand for frozen foods has increased by 40% and if that's not enough, freezer sales have nearly tripled! The current global pandemic is undoubtedly a factor for such extraordinary numbers, but there's a bit more to the story.
To celebrate Frozen Food Month, we wanted to take a look back at its history. Changing technology? No problem. Massive shifts in culture? We got you. The story of Frozen Food is one of innovative and agile evolution to best adjust to the changing needs and desires of home cooks across the country.
Ice Age: The Early Days of Frozen Food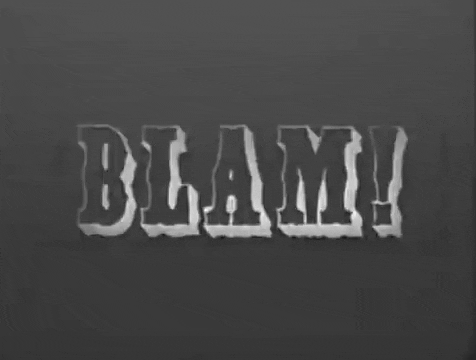 So who do we have to thank for the astounding number of options found in freezer aisles across the country? That would be Clarence Birdseye, American inventor and entrepreneur born at the tail end of the 1800s. His drive to find an effective solution to selling frozen food paved the way for where we find ourselves today.
Birdseye, the Frozen Food "Founding Father" if you will, was intent on developing a method to freeze foods as quickly as possible so as to best preserve meat tissue. He realized this in 1912 after seeing how the Inuit fishermen in Canada immediately froze and therefore preserved their catches. For Birdseye, it wasn't just about speed, but also how effective packaging could allow for the safe transport of items to reach as large an audience as possible.
In 1927, he filed his first patent for a "multi-plate" freezing machine, an early predecessor to modern freezing technology. Soon thereafter, Birds Eye Frosted Food Co. debuted to the public offering a variety of meats, fish, fruits and vegetables like haddock fillets, spinach and raspberries!
Convenient and Entertaining: TV Dinners of the Mid-Century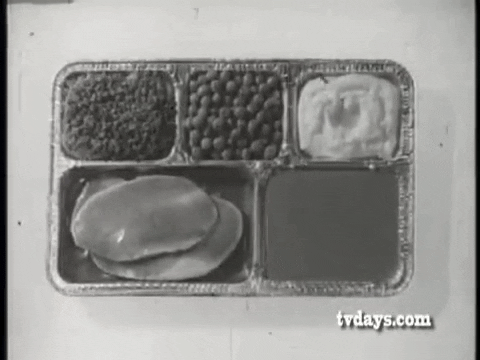 By the late 1940s, frozen food was making its way into homes across the country. Though it wasn't until the arrival of the TV Dinner in 1954, when this frozen offering became an iconic American staple.
While there's a bit of mystery and contention as to the individual(s) responsible for this origin story of the TV Dinner (three different sources are listed as originators in the Library of Congress), it's irrefutable that Swanson was the company behind this monumental shift in culture. Finding inspiration from the portable aluminum trays used during air travel, Swanson's innovative decision had less to do with how you were eating frozen food, but instead where. As its namesake implies, the TV Dinner effectively married the convenience of meal preparation with the entertainment found in the living room. Why not enjoy the newest episode of I Love Lucy with a tray of delicious turkey and whipped and buttered sweet potatoes, ready in just twenty-five minutes?
In its first year on the market, Swanson sold ten million TV Dinners and as they say, the rest is history.
Frozen Food of the Future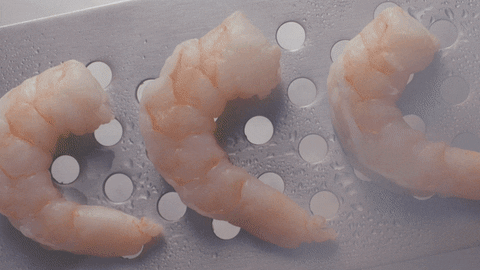 As revolutionizing as those TV Dinners were, these days they feel more like nostalgic artifacts of a technicolor past. Today's frozen food consumers are as much interested in convenience as they are sustainability and nutrition. Salisbury steaks and frozen peas have been replaced by cauliflower pizza dough and keto-friendly breakfast bowls.
The story of frozen food has always gone hand in hand with advances in technology and these days, it's no exception. Flash freezing, for instance, has been a game changing method that uses cold, circulating air to quickly freeze items at incredibly low temperatures.
At Cadence Kitchen HQ, we've taken this process a step further and patented a flash freezing process that involves liquid nitrogen enrobing. It's a fancy way of saying that we use an extremely cold gas to perfectly preserve our carefully crafted dishes. When heated up in a pan, the results are fantastic. Flavors are bold, ingredients are fresh and the textures are as if they'd just been cooked from scratch.
Nitrogen flash freezing also eliminates artificial preservatives and additives while maximizing each ingredient's nutritional value. With the added bonus of offering a direct solution to cut down on food waste, what's not to love?
Onwards with Cadence Kitchen and Beyond
Frozen food has had quite the journey over the last 100 years! Always pushing technological innovation and uniquely responding to changing cultures and preferences, the next century of frozen food will continue to uniquely satisfy the demands for convenience, affordability and good health.
What would you like to see for the future of frozen? To see what we're cooking up in our test kitchen and in our homes, follow us on IG. Planning for next week's menu? Check out our current menu full of options that are as diverse as they are delicious.
---
Give us a follow on social media as well to stay up-to-date on our latest from our kitchen.
Instagram | Facebook | Twitter | LinkedIn
---